On Load Tap Changer Transformer(OLTC)
---
商品名称:

On Load Tap Changer Transformer(OLTC)

商品编号:

cp024

Brand:

TSTY

Capacity:

30kva~10000kva

Voltage:

380v~35kv

USES:

Variable voltage distribution transformer
Product Overview
These transformers are designed and developed using latest technologies and can be provided with a variety of terminations so as to suit the requirements for new installation or replacement.
Optimum efficiency is ensured by delicate proportioning of core and winding looses Electrolytic Grade pure copper, with Transposition in L.V. coil for current sharing in parallel Conductors, Electric grade press paper, boards and mineral oil. Thus better regulation is achieved resulting in longer life. Careful designing also reduces noise level to the minimum.
Product Advantages
The on-load tapping transformer has high reliability, advanced performance and reasonable economic indicators.
The iron core adopts stepped three-stage joints, and the surface is coated with hardened varnish to reduce loss and noise.
The use of new winding structure, reasonable oil passage design and new insulation structure improve the mechanical strength and short-circuit resistance.
The oil storage tank has two structures: fully sealed and oil storage tank with oil storage device
Product Standards:
GB 1094 Power Transformer
GB/T 15164 Oil-immersed power transformer load guide
GB/T 6451 Three-phase oil-immersed power transformer technical parameters and requirements
IEC/60076
Product Parameter: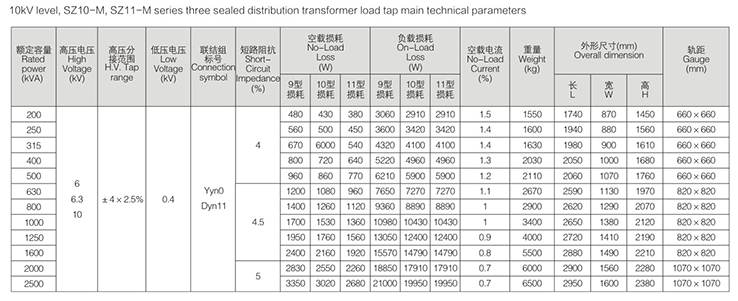 Qualification